Welcome to Ramarani Institute of Technology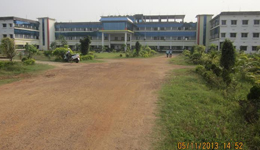 Ramarani Institute of Technology(RIT), Balasore, Orissa, is the premier private technical institution in the North Orissa region offering Diploma programme. It has received 9001-2008 ISO Certification. RIT was established in the year 2009 by RAMARANI EDUCATIONAL TRUST with the approval of AICTE and Government of Odisha with a motto to provide quality engineering education in a highly disciplined and ragging free environment as par international standards along with character building of students who will be able to stand up to meet the challenges of the present employment system of our country.
The institution is situated over 22 acres of land and well communicated by bus and train with neighboring district and other. In a short span of time, the RIT has succeeded in making an indelible mark on the engineering education in Orissa. RIT is fast becoming the most preferred institute of top DET rank holders. Students of more than 13 district are studying in the Institute.
We organize off-campus recruitment programme, to facilitate the students of other technical Institute of the State to learn and improvise them. The placement cell ensures that frequent seminars and talks are organized for students and staff on various technical and academic issues. Seminar and talks are delivered by distinguished experts from the industry and institutions. Group Discussions ,Personal interviews, Industry Readiness Tests, Psychometric Tests, Dummy seminars and talk and other soft skills also organized by the placement cell.
---
Dhirendra Kumar Das
Chairman
This is one of the best institutes where dreams can get a golden shape. The institute is furnished with class rooms, workshop with all types of updated machineries and equipments with the sole purpose of imparting job oriented technical course of quality and worth.
---
Ashok Kumar Panda
Principal
This is an unique institute where we emphasize on quality training. Our vision is to promote quality technical education to create substantial quality technical education to be a leader of technical institutions and to produce quality engineers to compete in national and international level as well.
---